Take our Franchise Readiness Survey to get your score instantly
The Franchising Management Platform (FMP) is a whole new approach and methodology to franchise a business.
The platform comes from a combination of three different elements:
The management system, the automation and tools, and the franchise methodology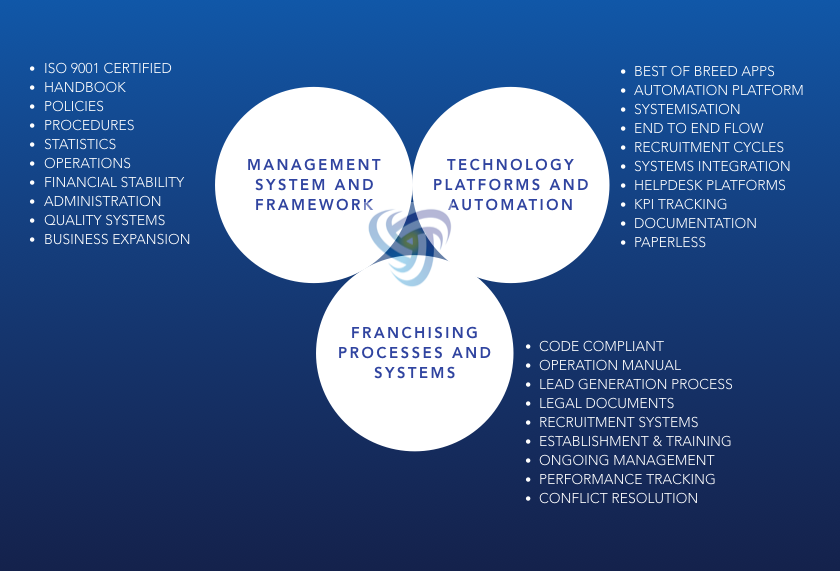 Management system
Having a comprehensive and coherent methodology around the management of the business is essential – especially as it scales. The first foundational element of FMP is a system which encapsulates all the operations of a business, knowledge management and creation, statistics and reporting, ensuring quality and consistency.
Technology systems
The technology available today has the ability to optimise the core goal of a business: deliver a higher level of service to customers. This doesn't mean de-humanising the process, rather using automation and appropriate platforms to fulfill simple, repetitive and instantaneous functions which then support staff ad franchisees in being able to deliver a higher level of service while being able to focus on the two most valuable aspects of business: the actual delivery of their service and interaction with the customer.
Franchise system
Franchising allows for a business to expand without the need for more staff, raising overheads and internal expenses. It means expanding through people who hold ownership, motivation and a stronger connection to the business. When combined with the management system and technology, a more centralised form of franchising emerges. In this model the Franchisor is more involved with the franchisees, the consistency and high level of quality is maintained and the franchisees are setup with a far greater support and chance of success.
So where did it come from? It has been developed from the ground up over an 8 year period through the development of Resicert, a national property inspection franchise business.